Deering, NH
Saturday, May 25th, 2013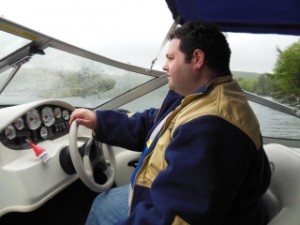 We spent the day in Deering, New Hampshire to visit the house that my aunt and uncle have right on Deering Lake. It rained for most of the day, so we spent most of the day playing games, but we decided not to let a little drizzle keep us from going out on the boat … even though it was windy and probably in the high 40s. We bundled up, and Captain John (right) gave us a tour of Deering Lake.
We also got to meet our newest cousin, Ted. Between Brian and me, three of our first cousins had babies this year, so we get to hang out with lots of adorable infants. This was Ted's first time meeting several of his relatives, so we took lots of pictures.
Family and friends, please click here to see photos of Ted. The password is his middle name (all lowercase).