Creamy Avocado Pasta Sauce
Sunday, May 26th, 2013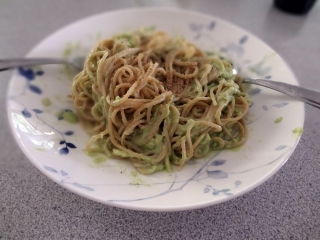 Creamy pasta without cream!

For the first time today, I tried a recipe that I found on Pinterest, and it was delicious! This recipe is perfect for a girl who loves avocados, and also loves creamy pasta sauces too much. What can I say? I was raised on mac & cheese! Creamy texture without actual cream … why didn't I think of this? I have a few ideas for enhancing this recipe with rosemary tofu and sun-dried tomatos. More on that another time.

Click here to check out my For the Love of Pasta board on Pinterest and click here to visit the recipe for 15 Minute Creamy Avocado Pasta on the Oh She Glows blog.