Stan Sakai at the MFA
Saturday, May 11th, 2013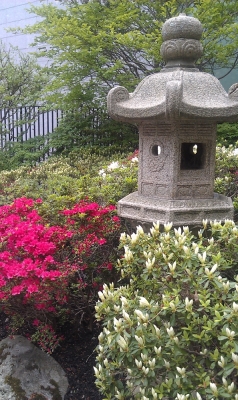 The MFA has outdone itself again. Instead of yet another exhibit of pretty paintings (which I wouldn't have minded), they are currently hosting a phenomenal exhibit of Samurai armor (my photoblog entry from the exhibit). They have done a stellar job of displaying this collection, but they didn't stop there. They partnered with a comic book artist who draws samurai, and a video game company that animates samurais from the comic book. In doing so, they have  brought together a magnificent ancient Japanese craft, a truly talented comic book artist, and the under-appreciated art of video game animation and given us the opportunity to consider how all three art forms relate to eachother.
Stan Sakai is the writer and artist of Usagi Yojimbo, a comic book series about a samurai rabbit. Brian has been a big fan of this series for a very long time, so were right there with all the other geeks and nerds at the front of the line waiting to hear him speak. But Stan did more than just talk about his process. He showed us. They set him up at the podium with an overhead projector, and while he talked to us like we were all old friends, he was also drawing and doodling on MFA letterhead. We watched his characters come to life right before our eyes. It was truly an honor to watch the master at work. And he was hysterical.
Before he spoke, we heard from the president of Happy Giant, the video game company that created a Usagi Yojimbo video game, with special content based on the MFA's Samurai exhibit. The MFA is exhibiting ancient armor, and they partnered with video game animators, who were in turn partnering with Stan Sakai, and the result is a samurai rabbit animated in authentic Japanese armor. Hopefully, this is the future of artistic collaboration.
After picking up a few special items for our moms at the gift shop, we visited the MFA's Japanese garden to round out our visit.
Tags: MFA