500 and counting …
Saturday, November 10th, 2012
In 2007, I began a website called Stories in Art. It's a a searchable database of paintings and sculptures that tell ancient stories, and I've been adding entries to my collection slowly but surely. Today, thanks to my parents, I added my 500th entry.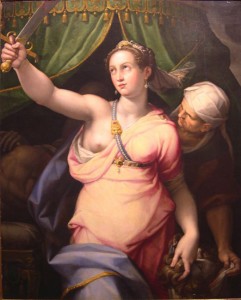 'Stories in Art' (which is not the nerdiest project I've ever done, but it comes close) started with a paper that I wrote in 2001, while I was studying art history in Florence. I wrote a paper comparing the themes of David and Goliath and Judith and Holofernes in Baroque painting (also not the nerdiest thing I've ever done). David and Judith were two biblical heroes who decapitated their enemies, against all odds, and saved their people. Depictions of these two heroes are endlessly fascinating and surprisingly common. Every time I went to a museum, I would notice another one, so I started a list.
When my parents came to visit me in Italy, I told them about the paper I was writing, and about the paintings I was studying. This started a very strange game that we've been playing ever since: keep an eye out for the decapitated heads in museums. My parents have been helping me collect images of heroic decapitators for eleven years, and they recently found yet another one.
Hans von Aachen's Judith and Holofernes is my 500th entry in Stories in Art and my 115th Judith.
Hans von Aachen
Judith and Holofernes
Middlebury College Museum of Art
Middlebury, Vermont