Day 7 – Barcelona
Thursday, October 18th, 2012
I am incredibly fortunate that I've had opportunities to go to Spain not once but twice in the past eighteen months, although this time we had to do without our fantastic tour guide (my mom).  We arrived at 10am so we got to sleep in and take it slow — at this point, we had been traveling for almost a week, we had been blown away by three cities so far and we've been keeping a pretty active pace, so we were still half-asleep when we got off the boat and found our way to one of Barcelona's double-decker open-air headphone-narrated hop-on/hop-off busses. It was touristy but perfect — Barcelona is all about architecture, and the bus gave us the chance to look at so many buildings that we wouldn't have seen from the sidewalks without walking with our eyes up and walking in to people.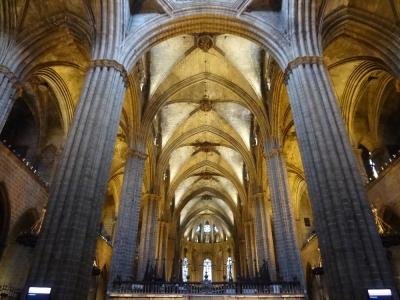 Barcelona Cathedral

We got off the bus in Placa Catalunya and walked around to see the fountains, the shops and street market of artists. Then, we wandered through the Gothic Quarter and made our way to Barcelona's cathedral. You might think that after seeing so many churches, it's hard to be wowed by yet another one, but that's really not the case. We saw two spectacular, very different churches in Barcelona, and both blew me away. Barcelona's cathedral reminded me of the Gothic cathedrals in France — impossibly tall columns, graceful arches, vaulted ceilings, dark stone and spectacular stained glass windows. Very different from all of the marlbed Roman Baroque churches we saw a few days ago. We wandered in to the cathedral's adjacent courtyard, which had several lovely chapels, and for some reason, a little pool with several geese.

Then, back to Placa Catalunya and back on the bus. Barcelona is full of buildings designed by Modernista architect Gaudi, and most of the rest of our afternoon was spent exploring Gaudi buildings. First, the bus took us by Casa Mila, which is one of the few Gaudi buildings I could recognize before I started cramming for this trip. Then we got our first view of Sagrada Famiglia (Gaudi's finest, and THE thing to see in Barcelona), then got off the bus and walked up to Park Guell. Park Guell is an unfinished park designed by Gaudi, full of that characteristic colorful fragmented broken tiles. It was worth the walk up the hill and the many stairs just to see the view of Barcelona (despite the fog).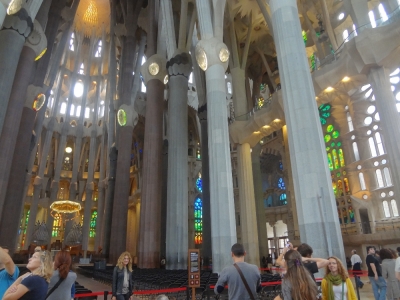 Sagrada Famiglia

Back down the stairs, then a cab back to Sagrada Famiglia — it was finally time to see this masterpiece for ourselves. I will say this for the record. I was wrong, and I stand corrected. I had thought that I wouldn't care for this modern architecture stuff, but Sagrada Familia blew me away. The exterior is not really my thing – the sculptures on the facade are so blocky and it made me miss the impressively elaborate drapery of so many marble sculptures in Rome. But the interior of the church took my breath away. Sagrada Familigia is so new that it is still being built, but Gaudi's vision is crystal clear. He paid homage to thousands of years of church architecture while completely redefining and inventing his own architectural language. The stained glass windows were the most beautiful thing I saw that day.

It was around 5pm at this point and we stopped at a little sidewalk cafe for a late-lunch/early-dinner, then back on the bus! The sun was starting to set, and I love seeing buildings lit up at night, so we spent the rest of our time in Barcelona (2 more hours) riding the upper-deck of the tourist bus. We saw Casa Mila again, and neighborhoods I should probably learn more about, then up to Montjuic, the section of Barcelona that includes the Olympic stadium (from the 1992 Olympics), and the Royal Palace. It was really breathtaking to see this neighborhood lit up at night, with skyline views of Barcelona, and we even got to glimpse inside the Olympic stadium as we drove past.

With 20 minutes to spare, we got back on the ship and decided to spoil ourselves with some late-night room service. The following day (today, as I write this) is our full day at sea, and we were very much in need of some extra sleep, some sitting around, and a day without a schedule.




Tags: honeymoon