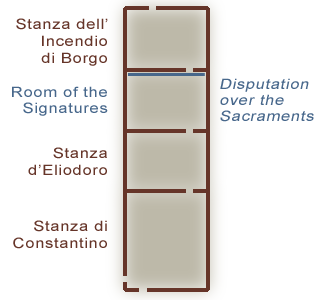 On the wall opposite the School of Athens, corresponding to Theology, is the fresco of the so-called Disputation of the Most Holy Sacrament, the title of which should more rightly be that of the Triumph of Religion.
At the sides of the Most Holy Trinity (with God the Father, Christ between the Virgin and St John the Baptist, and the Holy Spirit in the centre) is the Triumphant Church, with patriarchs and prophets of the Old Testament alternated with apostles and martyrs, seated in a hemicycle on the clouds. The personages are (from left to right for the viewer). St Peter, Adam, St John the Evangelist, David, St Laurence, Judas Maccabees, St Stephen, Moses, St James the elder, Abraham, St Paul.
On the ground, at the sides of the altar on which the Most Holy Sacrament dominates, is the Militant Church. On the marble thrones closest to the altar sit four Fathers of the Latin Church: St Gregory the Great (a portrait of Julius II), St Jerome, St Ambroseand St Augustine. Some other figures have the physiognomy of historical personages. We recognize the portrait of Sixtus IV (Julius II's uncle) in the pontiff furthest to the right, of Dante Alighieri behind him and of Beato Angelico in the monk on the extreme left.
text copied from here