Walking around Boston
Sunday, June 8th, 2014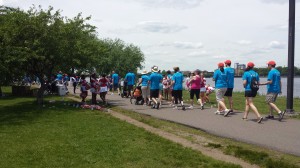 I took a nice long walk around Boston, starting and ending at Symphony Hall. I walked through the Christian Science Plaza, passed the reflecting pool, passed the Prudential Center, down Huntington Ave, and left on Ring Road at Copley Plaza to Boylston Street. Left on Boylston, right on Fairfield, straight down Fairfied Ave to the foot bridge over Storrow Drive and down to the Charles River Esplanade. At that point, I realized that there was some kind of walk for something going on because there were TONS of people walking along the river in blue t-shirts. I took a closer look, and realized there were tons of little kids walking. Their t-shirts said it all: Boston Children's Hospital: Raise funds, Save lives, Repeat.
As I crossed the little bridge to my favorite part of the esplanade, the little island that gives you a great view of Back Bay, I was so moved to see so many families walking together on such a gorgeous day and raising money for sick kids. There were even a bunch of what looked like high school cheerleaders cheering everyone on. From where I was, I could see two long streams of families in blue-tshirts, some coming towards me along the island, and some crossing back over to the Storrow Drive side and walking in the same direction as me.
Later, I looked it up and learned that the event was NStar's Walk for Boston Children's Hospital, and that there was a 2-mile route and a 7-mile route, both starting and ending at the Hatch Shell. I was right at the turn-around point for the 2-mile route which I why I was seeing walkers in both directions.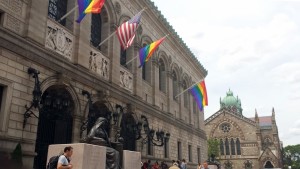 I continued along, and crossed back over Storrow Drive near Clarendon Street, then walked down Clarendon towards Back Bay Station. As I passed through Copley Plaza, I was pleasantly surprised to see rainbow flags and an American flag flying from facade of Boston Public Library (it's usually several American flags). Not sure if there's some occasion I'm not aware of, but I don't care – it looked absolutely amazing! I stopped to watch some street performers, then continued on down Clarendon.
Across from Back Bay Station, I took a right into the Southwest Corridor Park, and walked through the gorgeous tree-lined park that runs through the beautiful residential neighborhood of the South End. That brought me back to the Prudential Center, and then again through the Christian Science Plaza and back to Symphony Hall!
Tags: Back Bay, BPL, Charles River, Christian Science Plaza, Copley