Wadsworth Atheneum
Saturday, June 1st, 2013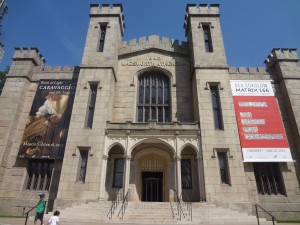 There are two Baroque paintings in the collection of the Wadsworth Atheneum Museum of Art that I think are worth the entire two hour trip from Boston to Hartford to see. When I first visited the Wadsworth about 10 years ago, the entire Baroque section was being renovated. When I visited again in 2011, I got to see one of them and it was truly a treat. The other was in storage. This time, I finally got to see the painting I had been trying to see, and it was gorgeous.
One painting is Orazio Gentileschi's Judith and Holofernes. Like so many others, Gentileschi painted in the style of Caravaggio, and he was among the few who truly mastered Caravaggio's rich colors, dramatic shadows and intense emotion.
The other painting is Caravaggio's St. Francis of Assisi. There are only a handful of paintings by Caravaggio in American collections, so it's a treat to see works by the master on home soil. The Wadsworth worked an entire exhibit around these two paintings (Burst of Light: Caravaggio and his Legacy), so obviously, I have been dying to see this since it opened in March. We finally found a free weekend to head down to Hartford and we had a wonderful afternoon.
Photos from our visit to the Wadsworth Atheneum in 2011