Cinco de Mayo
Sunday, May 5th, 2013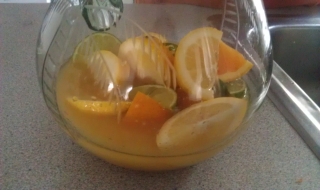 We have adopted Cinco de Mayo as our own personal holiday because it falls between our birthdays (which are two weeks apart), and we met at a Cinco de Mayo party six years ago.
Our sangria came out pretty good this year, so here's the recipe (thanks Lauren!)
Combine and chill 2 bottles red Spanish Rioja wine, 1 cup brandy, 1/2 cup lemon juice, 2/3 cup orange juice , 1 cup triple sec, 1/2 cup sugar, 1 lemon, sliced, 1 lime, sliced, 1/2 orange, sliced. Serve over ice and enjoy!
Also, here's some awesome photos from a very memorable Cinco de Mayo in 2011, which was the same day as Merry's much more memorable surprise party.
And, a blast from the past – Cinco de Mayo 2010 and Cinco de Mayo 2008
Tags: Cinco de Mayo