Anniversary
Sunday, March 3rd, 2013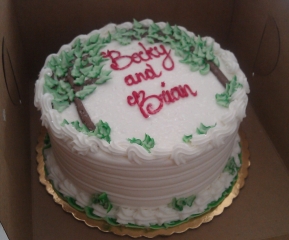 A year after our wedding, we can look back and honestly say that we would not have done anything differently. Our wedding weekend was truly joyful, and we returned to the Hyatt Harborside to celebrate our first anniversary and enjoy those wonderful memories. We enjoyed a delicious dinner and breakfast at the Harborside Grill, and we still can't get enough of that spectacular view! Brian's family surprised us with a delicious antipasto platter and a bottle of champagne, which was a really sweet treat.
Brian planned a wonderful surprise of his own. He ordered a mini-version of our wedding cake from the bakery where our wedding cake was from, and we picked it up on our way to my parents' house. He tried to get the bakery to decorate our cake with the same leafy design as our wedding cake, but it didn't work out quite as he had planned. Instead, it was even better. They frosted the cake with the leaves of two full trees meeting in the middle. We had lunch with my family, and shared the cake with them.
Click here to see Maureen's wonderful video slide-show from our wedding.
Tags: Boston skyline, us