Day 10 – Palermo, Sicily
Sunday, October 21st, 2012
We had signed up for a guided tour that would take us all over Palermo, and up in to the hills to a town called Monreale. The only good thing about having to get up early on vacation is being able to enjoy the sunrise, and it was a pretty incredible sunrise.
Here's one of my favorite photos from our trip – the sunrise as we arrived in Sicily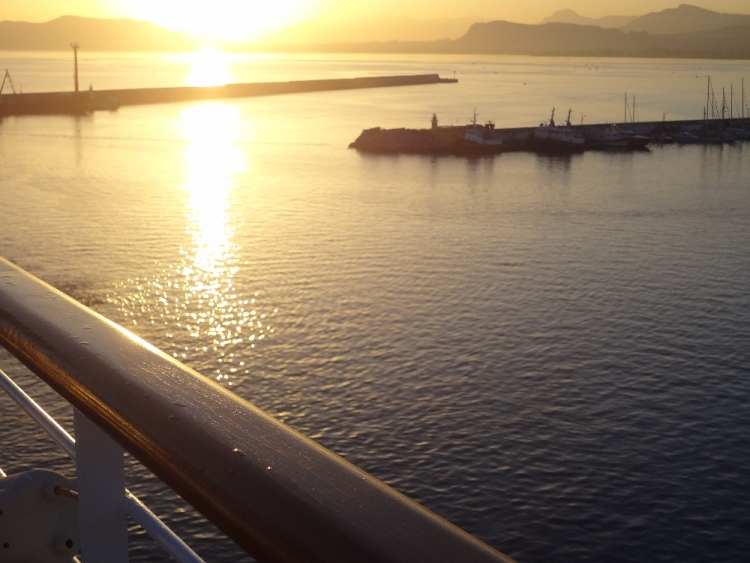 The story of our morning in Palermo is an easy story to tell: two towns (Palermo and Monreale), two cathedrals, an incredible view, shopping and gelato. Our tour guide was great – she filled us in on lots of fascinating details about Palermo and Sicily while pointing out beautiful buildings left and right. We arrived with several other tour buses in Monreale, and climbed up many steps to the piazza and the cathedral. The Cathedral of Monreale is a masterpiece of mosaics that depict the biblical stories, with a massive mosaic of Christ above the altar. Absolutely spectacular.
After we visited the cathedral, we had about an hour before we had to be back on the bus. That was plenty of time to buy four gifts, and take in an incredible view of Palermo. Back on the bus, and back down the hill for a drive-by of a few more gorgeous buildings and piazzas. Our last stop was the cathedral, which is far more ornate on the outside than the inside. We started our trip with a church that has massive sculptures of the 12 apostles lining the nave, and Palermo's cathedral has statues of female saints lining the nave. Very beautiful.
Then, we returned to the ship to spend the rest of the afternoon enjoying the view before heading back to our cabin to pack our two massive suitcases.
Tags: honeymoon