Day 1 – Vatican City
Friday, October 12th, 2012
As I'm writing this on October 15th, we are aboard the Noordam somewhere in the Mediterranean.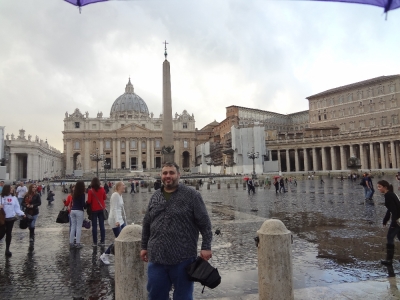 Brian in St. Peter's Square. As we made our way down Via della Conciliazione towards St. Peter's cathedral, it started to rain heavily. Fortunately, we were able to buy umbrellas from the ever-present street vendors, but we still got a bit wet. But St. Peter's Square is pretty impressive even in the rain.

We arrived in Rome on Friday, October 12th around lunchtime, settled in, napped off the jet lag, and made our way over to Vatican City. The Vatican Museums offers the option to the tour the museum at night on certain Fridays in the Fall, and since it fit in perfectly with our itinerary, we jumped at the opportunity. First, we visited St. Peter's Cathedral – we got a pretty wet (see photo) because it started pouring, but still completely worth it. There is absolutely nothing more amazing in the world.

Then, to the Vatican Museums. I've been to there a few times before, and it was AMAZING to see the galleries at night. I've spent a lot of time learning about the Raphael Rooms, especially the room that has the School of Athens, so it was pretty incredible to be able to share that with Brian. I've been in that room 6 times before, and it still floors me to see it in person. Brian was really awestruck by the Map Room, and of course, the Sistine Chapel Ceiling is a must see.

Sidewalk cafe for a very late dinner, back to St. Peter's Square to see the dome lit up at night, then back to the hotel to pass out.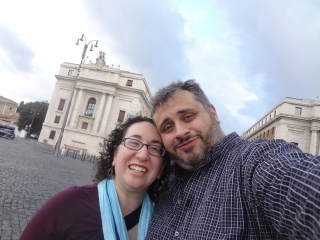 Us (just before the rain started), just moments in to our Roman adventure, jetlagged and failing to take a photo of ourselves that includes the largest cathedral in the world right behind us.

Us (just before the rain started), just moments in to our Roman adventure, jetlagged and failing to take a photo of ourselves that includes the largest cathedral in the world right behind us.











Tags: honeymoon