Day 5 – Florence
Tuesday, October 16th, 2012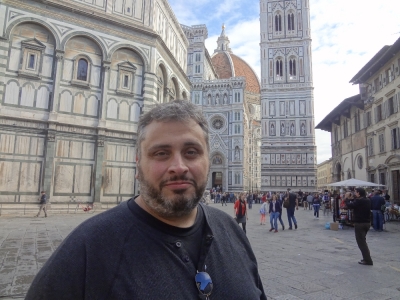 Our first port of call is Livorno. The cruise offered several opportunities to explore various Tuscan towns such as Pisa, Lucca and Siena, but for us, it was a no-brainer. We signed up for the bus ride to Florence, an hour and a half inland. We only had five hours of free time to wander Florence before we had to get back on the bus, but there was no way I was going to miss the opportunity to introduce my husband to the city where I lived for my junior year. Florence is a beautiful dreamworld, and it was simply mind-blowing to take this five-hour journey to my past. This is my handsome husband in front of il Duomo, Santa Maria del Fiore, one of the most beautiful cathedrals in the world.
Brian was not completely unfamiliar with Florence – three of my paintings in our house are of three of my favorite things to see in Florence, including one that we saw a copy of in Williamstown, MA (see photo). Plus, we had been to an exhibit on the Gates of Paradise in NYC a few years ago, so he had become familiar with those gorgeous gilded panels before seeing them in person.
We had an incredible lunch before making a dangerous but inevitable venture in the nearby  mercato nuovo. Can't go to Florence without buying leather, so we did.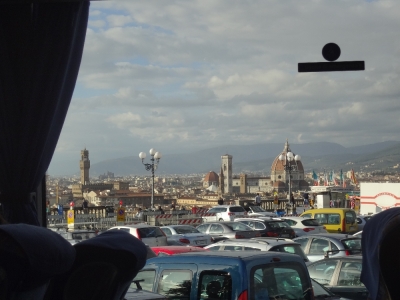 Piazzale Michelangelo

We wandered and explored some more, then all too soon, it was time to go. I knew it would be hard to leave, but it was harder than I thought. Fortunately, our tour guide read my mind, and added a little extra treat to our visit. We got back on the bus, then drove up a nearby hill to Piazzale Michelangelo – the best place to get an incredible view of the whole city, and especially its spectacular cathedral. Not enough time for us to go up there on our own, although I had really wanted to, but I was extremely happy that the bus took us up there on our way our of town.

We got back on the boat just in time to enjoy a spectacular sunset before dinner.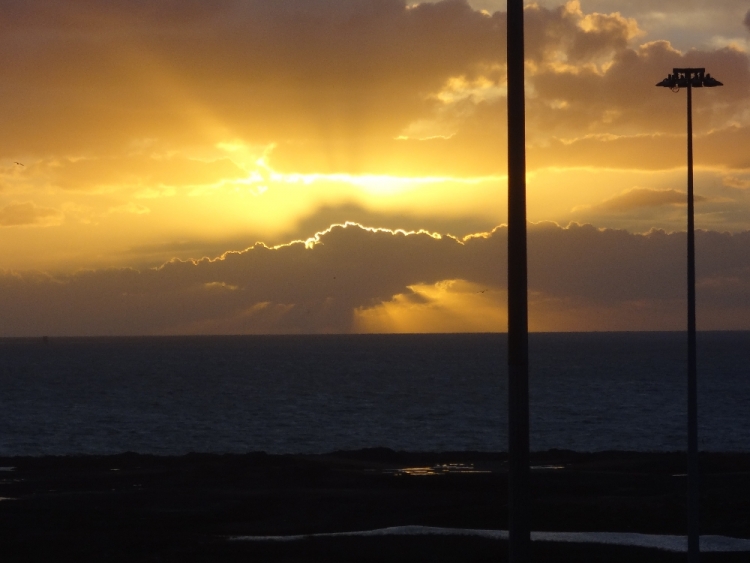 The sunset as we left Livorno
Tags: honeymoon