Mastodons!
Friday, October 5th, 2012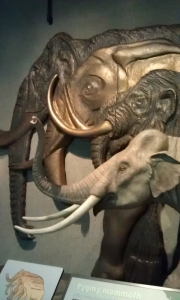 One of the gazillion reasons that I love Boston is that we have an amazing Museum of Science. I'm not exactly a science-y person, but this museum has been blowing my mind since I was a little kid. They continually put up phenomenal exhibits that are incredibly informative, really fun for little kids and big kids, and displayed beautifully. We got a sneak preview of the new mastodon exhibit, and it did not disappoint. Again, ancient mammoths, not exactly my thing, but it was incredibly humbling to be reminded that this planet has been inhabited for at least 65 million years, and incredibly staggering to be reminded that we know an awful lot about ancient mammoths.
Also, mastodon is fun to say, and some of the early mastodons look like Snuffleupagus.
Tags: MoS