Gloucester and Rockport
Saturday, July 21st, 2012
I had a groupon for a Cape Ann Whale Watch, and we used that as an excuse for an incredibly pleasant daytrip to the beautiful town of Gloucester, MA (click to see google map). One of the many things I love about living in Massachusetts is that there are gorgeous vacation spots right under our noses. Gloucester is right on the ocean, and the weather was picture-perfect.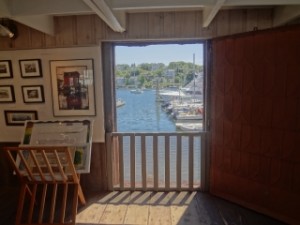 First, we wandered around Rocky Neck, one of American's oldest artist colonies. I went to art school, so I have some idea of what it's like to be surrounded by artsy-types. This is much different. These are serious and talented artists running cozy galleries, and living the good life in quaint houses with incredible views.
Then, we crossed an item off of our list by visiting the Sargent House Museum. The house was built for Judith Sargent Murray (1751–1820), who was (among many other things), the great-grand-aunt of John Singer Sargent (one of the few artists that Brian and I can truly agree on). The house was lovely and the tour guide really knew her stuff, but we had to duck out before the tour was over because the whales were waiting.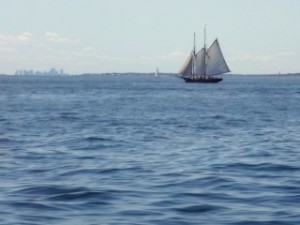 We boarded the Hurricane II, and enjoyed the views, the wind and the salty air as we headed out to visit the whales. It was such a clear day that we could see Boston in the distance the whole time we were out there. Brian actually listened as the guide taught us about the different whales that we saw, so you'll have to ask him. I just wanted to see something you don't see every day — an animal so huge that it reminds you how small we are, in its natural habitat, an ocean so huge it reminds you of how little we know.
After the whale watch, we decided to take a little drive and ended up in Rockport, MA (click for google map), another great town with lots of galleries, cute shops and beautiful views. After some wandering, it was time to find some dinner. We had just stopped in to a small restaurant to try their chowder and their seating area was crammed with picnic benches and loud children. That's exactly what I didn't want for dinner, and I was getting frustrated with the tiny keyboard on my phone, searching among an overwhelming array of local options. So Brian said "let's just try this place" and we walked in to the restaurant across the street.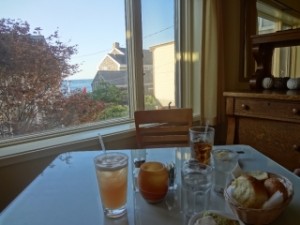 I can't say this enough: we are two incredibly lucky and fortunate people. The hostess at Brackett's Oceanview Restaurant apologetically offered us the last available table at the restaurant – a tiny, out of the way, private room with a big window. The table was perfect, the room was perfect, the view was perfect, my drink was perfect, the fried seafood was perfect, the lobster ravioli was perfect and my husband is perfect.
Then we walked off dinner on Pier Avenue, just in time to catch a beautiful sunset over Sandy Bay.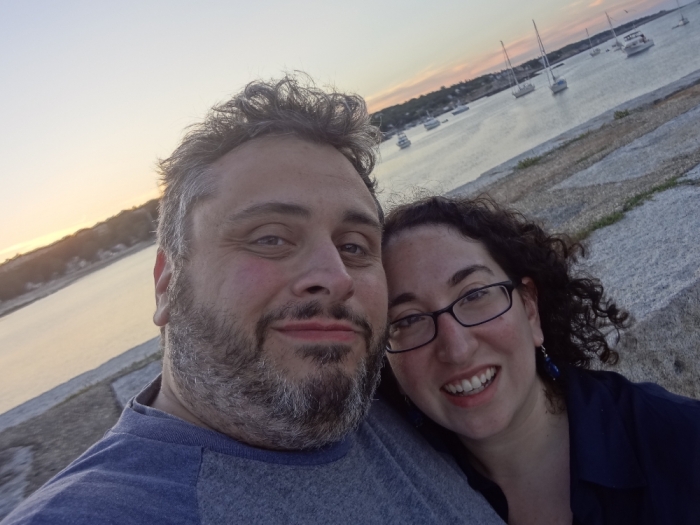 Me and my sweetie in Rockport, MA
Tags: Boston skyline, Gloucester