Gallery 810
Thursday, July 19th, 2012
I finally finished a painting that I've been working on for a while. It's not my masterpiece, but I love it.  Life occasionally gets in the way of painting, and this one may have sat on the back-burner for quite a while. I started this painting two years ago, almost to the day.
You might not be surprised by this: I love going to museums. On the day after Christmas in 2007, Brian and I spent the afternoon at the Metropolitan Museum of Art and, again this might not surprise you, I took a lot of pictures.
It's not just that I love art — I love galleries, and Gallery 810 at the Met is perfect — deep dusty rose walls, parquet floors, columns, arched doorways, and a huge skylight, not to mention the shiny gilded frames holding glimpses in to other worlds, including the world of the mysterious Madame X.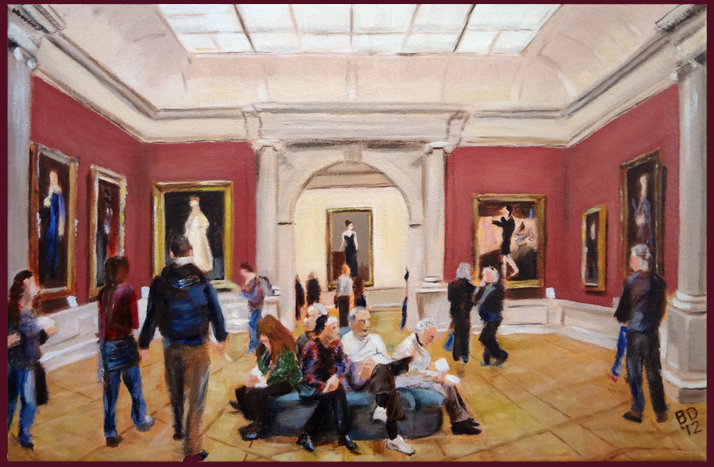 Gallery 810
Metropolitan Museum of Art
oil on 12×18″ canvas
2010-2012
beckydimattia.com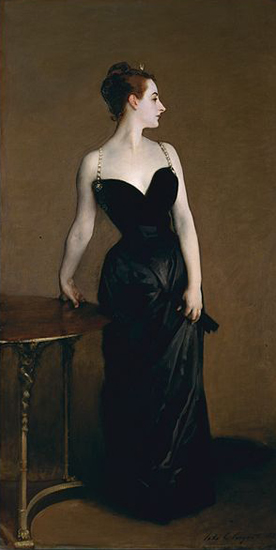 John Singer Sargent
Madame X (Portrait of Virginie Amélie Avegno Gautreau)
1884
Metropolitan Museum of Art
In 1884, John Singer Sargent exhibited his gorgeous portrait of Madame Gautreau at the Paris Salon, but it was not well-received. Critics argued that it was obscene, and Madame Gautreau was humiliated. Despite demands, Sargent refused to withdraw it from the salon, although he later repainted the sitter's right shoulder-trap so that it was on her shoulder rather than loosely draped on her arm.
In 1916, Sargent sold the portrait, known as Madame X, to the Metropolitan Museum of Art, commenting to the Met's director "I suppose it is the best thing I have ever done." In 2004, Deborah Davis wrote Strapless, a fabulous book about Sargent and Madame X. In 2007, when I got to see Madame X, she was hanging in Gallery 811, framed beautifully by the arched doorway of Gallery 810.
According to the Met's website, she can now be found in Gallery 711. At some point, she was moved from the European paintings to the American paintings. Apparently, John Singer Sargent has been hard to classify since he was an American born Florence and he lived and worked in Paris and London before painting wealthy New Yorkers and Bostonians (such as Isabella Stewart Gardner) when he was my age.
click here for the Met's page on Madame X 
My painting is based on a composite of these two photos:
And this is the Met's photo of Gallery 810 from their page on the gallery: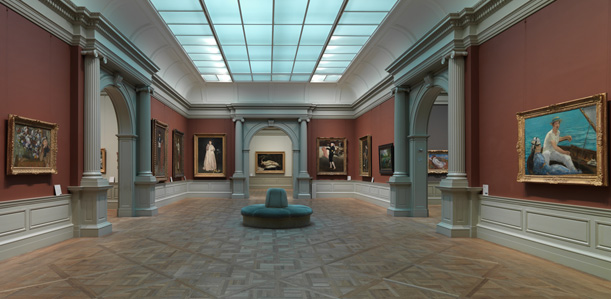 Please visit beckydimattia.com to see my other recent paintings. 
Tags: comparisons