The Lymans
Sunday, October 23rd, 2011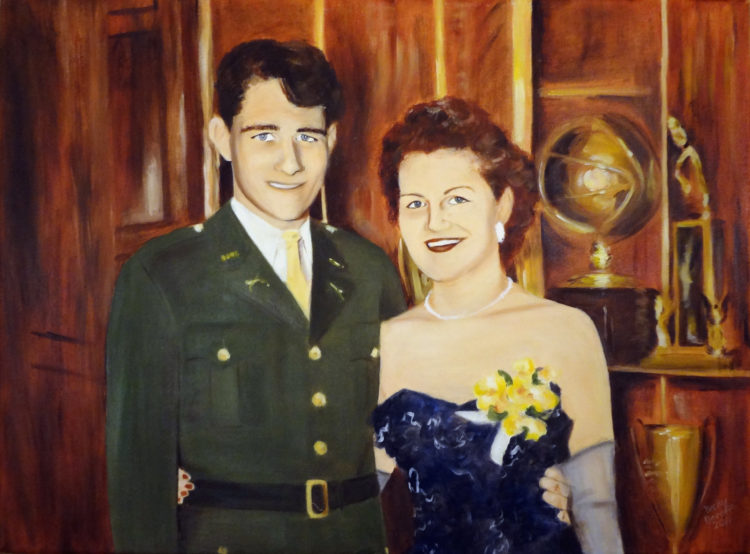 This is an oil painting of my dear friend Melissa's grandparents, Edward and Mildred Lyman. She commissioned this painting in early 2011 to be given as a birthday gift to her mother (Edward and Millie's daughter) in October 2011. This painting was incredibly challenging, moving, and rewarding for me, and Melissa's mother said simply "it's the best gift ever!"
This painting is based on a black and white photograph taken in 1949 at Seton Hall University's Military Ball in front of the trophy case. This beautiful bright-eyed couple married in 1951 they had three children, six grandchildren, and five great-grandchildren in their 60 years of marriage. They both passed away this year, within a year of each other, and I was asked to preserve this precious moment at the beginning of their life together.
I was so nervous that I might not be up to the task of capturing this moment, but then I thought about how nervous Edward might have been when he brought such a gorgeous date to the ball, and my own fears melted away with a smile. I spent the last several months looking deep into the eyes of this confident young couple, wondering what they might have been thinking at the age of 20, dressed up in their finest, at the very beginning of the relationship. This might have been the first time they ever posed for a photo together, and I wonder if they had any idea that they would stand side-by-side for the next 60 years.
They got married about a year after this photo was taken, and I'm getting married next year. Working on this project in the year before my own wedding filled my head with notions of the past and future. Thoughts about Edward and Millie's life together mixed in my mind with my own wishes for my future with Brian, and the hours passed as I painted. Brian's opinion about my paintings have become invaluable to my process and Brian and I spent quite a bit of time staring at Edward and Millie together: a strange confrontation of two couples across 60 years.
Melissa asked me to paint this portrait of her grandparents after the death of her grandfather, and by the time I was able to start the project, Melissa's grandmother had passed away as well. It broke my heart to watch Melissa, my roommate of five years, cope with the illness and death of both beloved grandparents. It was incredibly challenging to accurately capture their bright smiles and the light in their eyes while knowing how their lives came to an end.
I'm humbled by the role I got to play in memorializing this beautiful couple, and I'm extremely moved by the experience of identifying with these 1949 twenty-year olds. Thanks Melissa for letting me be a part of the story of Edward and Millie.